Covered California™ is the state's destination for quality, affordable health care. A part of the national health care law , Covered California is a program from the state of California where qualified lawful residents and their families can compare quality health plans and choose the one that works best for their health needs and budget.
Enrollment in health plan through Covered California begins October 15, 2018 and continues until January 15, 2019. You must purchase health insurance during this open-enrollment period in order to obtain coverage through Covered California in 2017.
Financial Assistance
Based on your household income, your family may qualify for a tax credit to help pay for health coverage or low-cost or no-cost plans through Medi-Cal. To learn if you qualify, see the chart below.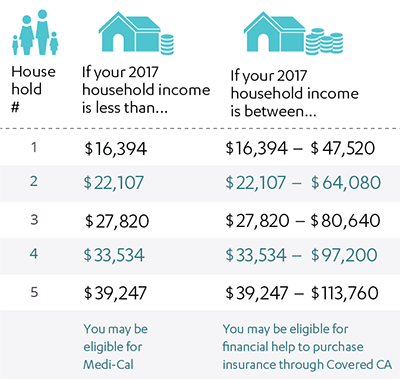 Benefit
The health plans that will be offered through Covered California are guaranteed to provide basic levels of coverage and provide consumer protections,including the 10 categories of essential health benefits:
Ambulatory patient care
Emergency services
Hospitalization
Maternity and newborn care
Mental health and substance abuse disorder treatment
Prescription drugs
Rehabilitation and habilitation services and devices
Lab services
Preventive & wellness services and chronic disease support
Pediatric services, including dental and vision care
Penalty
Most people are now required by law to have health insurance or pay a penalty when taxes are filed. Those who don't have health coverage in 2017 may be subject to penalty, which is $695 per person in a household or 2.5 percent of their income, whichever is greater.

Special Enrollment
To enroll in coverage outside of Covered California's open-enrollment period, consumers must experience a "qualifying life event." Many different types of qualifying life events are described in the chart below.
Got married / Divorced
Had a baby / Adopted a child
Lost your employer-sponsored coverage
No longer eligible for student health coverage
Lost Medi-Cal Coverage
COBRA Coverage Exhausted
Moved outside your plan's coverage area
Turned 26 years old
Turned 19 years old
Became a US Citizen or a lawful presence
Other qualifying life event
Coverage Category
Bronze
Silver
Gold
Platinum
Deductible
$6,300 – Medical
$500 – Drug
$2,500 – Medical
$250 – Drug
$0
$0
Annual Wellness Exam
$0
$0
$0
$0
Primary Care Bisit
$75 – First 3 visit
$35
$30
$15
Urgent Care Visit
$75 – First 3 visit
$35
$30
$15
Emergency Room Facility
Full cost until out-of-pocket maximum is met
$350
$325
$150
Generic Drugs (Tier1)
Full cost until up to %500 deductible
$15 or less
$15 or less
$5 or less
Maximum Out of Pocket for Individual
$6,800
$6,800
$6,750
$4,000
Maximum Out-of-pocket for Family
$13,600
$13,600
$13,500
$8,000
Uniti Global Insurance Services has earned a reputation as a successful agency based on its comprehensive knowledge and excellent service catering to client's every need.
Our Covered California Certified Insurance Agents are here to help you!
Free Confidential Help
Dedicate Customer Service
Plans that Fit Your Needs and Budget
Review your existing health plan for renewal
Individual / Family / Small Business